K2 Base Camp Trek – 24 Things to Know for Your Trip in 2023 & 2024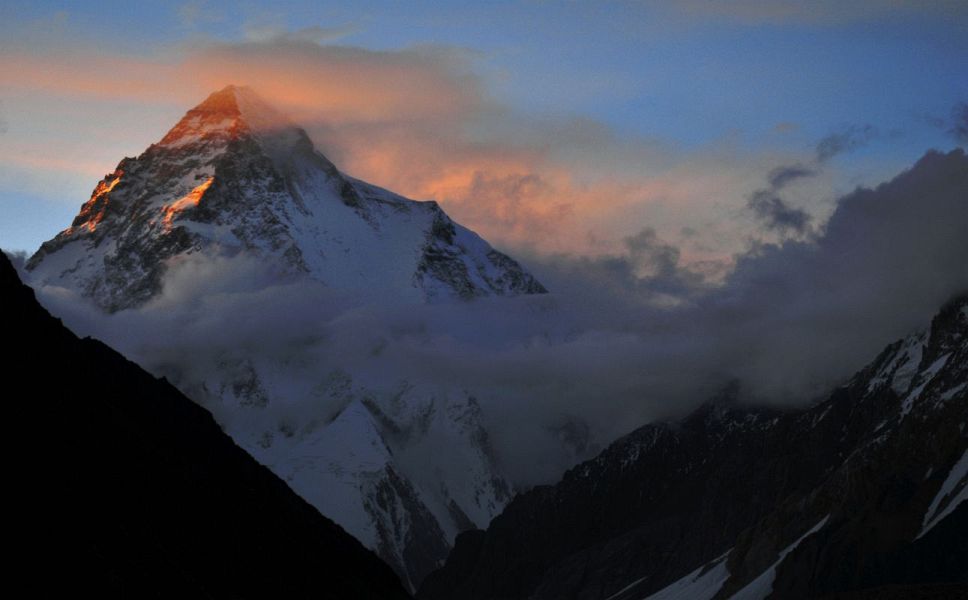 The K2 Base Camp Trek in Pakistan is one of the most iconic, stunning, beautiful, wild, rugged, and enough to stir the soul of hikers globally. Thousands of enthusiastic ramblers have gained an unforgetful experience on this Karakorum route. Many hikers consider this hike a rite of passage and a must for all true trekkers. Others embark on this trek to enjoy the best view of the world 4 above 8000m giants of Karakorum. The K2 Base Camp in Pakistan itself sits at an impressive 5,100 M high, but more on its impressive heights and climbing difficulty.
Whatever your reason for wanting to strike the K2 Base Camp Trek from the bucket list in 2023, this guide can help in your pursuit. It will run through all the basics of this iconic trekking route between ASkoli and Concordia, K2 Base Camp in Pakistan, explaining the best time of year to go, what sort of challenges can be expected along the way, what trekking gear you'll need on such a venture, and so much more. Find answers to the most frequently asked K2 base Camp Trek questions here. Dive in!
What's in this guide?
Where is K2 Mountain?
What and where is K2 Base Camp?
History of K2 Base Camp
How long is the trek to K2 Base Camp?
Is it worth it? Highlights of the K2 Trek
What is the K2 base camp trek Cost?
How hard is the trek/What is the K2 Base Camp Trek Difficulty?
How is the Terrain to K2 base camp?
What is k2 base camp altitude/ height/ What is K2 Base Camp elevation?
Food on the K2 Base Camp Trek
Accommodations on K2 Base Camp
When's the best time to go for K2 trekking? Temperatures & weather, k2 base camp trek weather?
How to manage Tips?
What is the baggage allowance for k2 Trek?
What gear and equipment should I pack?
Is It Safe to Travel to Pakistan?
Is the K2 Base Camp Trek Safe?
Getting there
Miscellaneous Expenses and Budgeting
Travel visas and permits
A typical K2 Base Camp Trek itinerary
K2 Base Camp Trek vs Everest Base Camp Trek
How to prepare for the K2 base Camp trek?
K2 Base Camp Trek Map
1. Where is K2 Mountain?
K2 is located in the Karakorum Range of Gilgit-Baltistan, Pakistan and Tajik Autonomous County of Xinjiang, China, the second largest mountain in the world after Everest. It is known as the most beautiful and challenging eight thousand on the planet. In 1954 it was conquered for the first time by Italian climbers. Since then, more than 300 climbers have reached the summit.
K2 has a height of 8,611 meters and a drop of 3,000 meters. It is the largest mountain in the world, with rocky, snow, and ice.
2. What and where is the K2 base camp?
There are actually two base camps for k2 trekking: the South Base Camp from the Pakistan side and the North Base Camp from Taxkorgan Tajik Autonomous County of Xinjiang, China.. The Pakistani camp in the Skardu Baltistan region is the K2 Base Camp that most people talk about, and the endpoint of this legendary trek.
Skardu the bewitching capital of the Baltistan region is the starting point for the mighty K-2. We cross a beautiful lush green fertile and fruit-laden Shigar valley and drive as far as Askoli, the last inhabitant before falling into the throne of mountains.
3. History of K2 Base Camp Trek
The history of its discovery begins in 1272-1274 when Marco Polo transits near the Karakorum on his trip to China, however, until 1856 the high peaks are not seen and it is in this same year when the colonel of the Survey of India TG baptizes each summit with an acronym composed of the letter K (for the Karakorum) and a number. This will be the name that prevails internationally even though the local name is Chogori.
4. How long is the trek to K2 Base Camp?
The K2 Base Camp Trek is the most challenging trek in Asia, and arguably the world. It is gaining more popularity among nature and hike lovers due to its wildness and untouched charm as compared to Treks in Nepal and worldwide.
Walking on the unpredictable but charismatic and enchanting Baltoro Glacier, we glimpse several famous and beautiful mountains on the way toward K2. Finally, we arrive at Concordia, the junction of Baltoro and Godwin Austin Glaciers with several other tributaries and a place serving as the base for the four giants of Karakorum, i.e. Gasherbrum II ( 8035m ), Broad Peak ( 8047m ), and Hidden Peak or Gasherbrum I (8068m) dominated by the king of the mountains, K-2 ( 8611m ).
Distance
The rewards of the trek don't come so easily. The Trek to K2 is a high-altitude journey that requires considerable acclimatization over a good distance. You'll typically need 12-14 days of full-on trekking (that's right, your "rest days" involve walking too!) to complete the 111-mile (180km) roundtrip that starts from Askole.
This distance is roughly divided into individual daily sections of 10-12 miles (18-20km), but the reason the whole adventure takes so many days is because it needs to be broken down into bite-sized chunks due to the altitude with acclimatization and rest days mixed in. Most itineraries will leave enough time to complete each leg on any given day at well below the average trekking pace.
Walking times
Most walkers find that they hike a maximum of 8 hours each day, though that can go up a little when you reach the higher altitude sections of the route – not just because of the physical challenge, but because you'll be stopping often to take in all the breathtaking views!


5. Is it worth it? K2 Base Camp trip highlights
The joy is in the journey here, as you trek further up to gaze from the roof of the world. Some of the best sightings of the famous Karakorum comes during the K2 Base Camp Trek itself, from various lookout points along the way. These magnificent views combined with amazing peaks and some of the world's longest glaciers offer intriguing trip attractions en route. For me, the best highlights of the trek are:
Paiju Camp (Paijucamp) –(3,380m):
Paiju is a green oasis under the shadows of Paiju Peak (6,611m). Normally there is much singing, drumming (or barrel bashing) and dancing amongst the porters with a real feel-good atmosphere.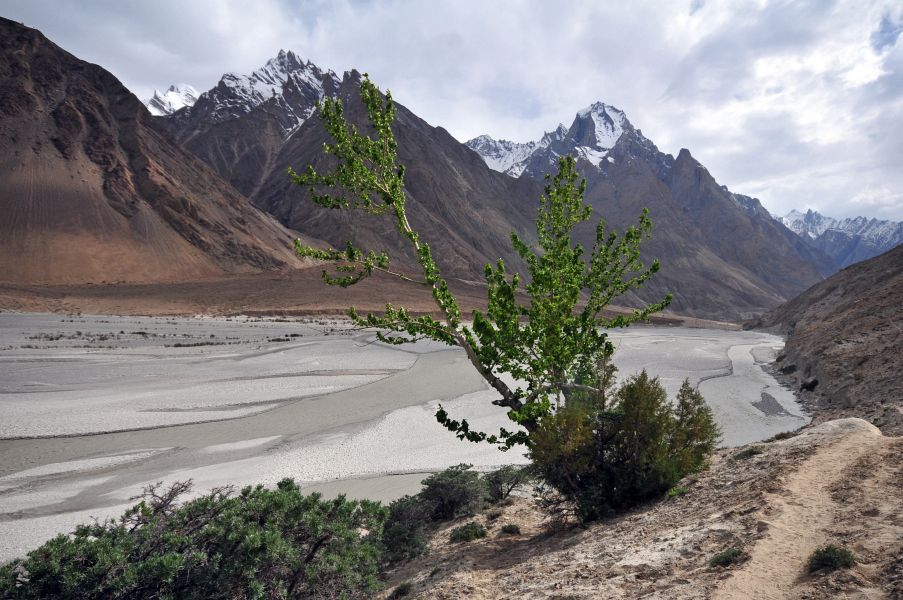 Rdukas camp and TrangoTower (Trangotower)
Passing great Trango and the isolated pillar of the Nameless Tower to our next camp Rdukas (3900m). This is a truly awesome place a hundred meters above the glacier offering the best view of Trange Tower and many other granite rocks.
Goro camp with Mashebrum Peak (MashebrumPeak)
We follow the moraine edge and climb up onto the glacier. Soon we come to have the enchanting view of Mashabrum (7821m) on our right side. Ascending and descending on the mountains of rubble over the ice we have the encounter ahead to the peaks surrounded by Concordia. Goro is the camp name (4290m) and camping one of the largest glaciers outside the polar region with an attractive view of Gasherbrum IV (7925m).
Concordia with the View of K2
We encounter Concordia passing on Baltoro, views of Broad Peak (8051 m) appear while Marble and Crystal Peaks appear on the left. K2 remains concealed till the minute we reach Concordia; a breathtaking sight that becomes a beautiful memory forever. Concordia is a wide area of glaciers which is one of the greatest places on earth. We will be surrounded by 4 eight-thousanders, 10 out of 30 highest peaks in the world. The camp will be set at 4,500 m in Concordia on the moraine.

6. What is the cost of K2 Base Camp Trek?
The trek to the K2 base camp may cost you from as low as 1690 $ to 6000$ per person. Western companies with international leaders like K.E Adventure, Exodus, and Mountain Madness may cost you from 4000$ to 6000$ in a group of 4 to 12 persons.
Many other Tour Operators who work as a partner and referred their clients to a local agency in Pakistan may charge you around 1900$ to 2600$ per person in a group of 8 to 16 persons.
The local tour operators' pricing may be from as low as 1690 $ to 3000 $ depending on the group size and facilities provided (accommodation, Portage), etc.
The best consideration while booking the trip will be to know everything before the trip confirmation like in case of Road blockages which are common in Pakistan and especially towards the Trek start village Askoli, Tipping and the food menu, etc during the Trek.
7. How hard is the Trek/What is the Trek Difficulty?
So just how difficult is the trek to K2 Base Camp? To answer this, you'll have to consider the terrain and heights of K2 Trekking. Your physical fitness also plays a factor in the perceived difficulty of this adventure. Based on our Trip Activity Level Guide, we classify this trek as an advanced level, but you may be glad to know that no technical training or mountaineering experience is required.
Not sure if this K2 adventure is right for you? Contact us and we'll walk you through details on the physical demands, recommended training, and more so you can make an informed decision.
8. How is the K2 Base Camp Terrain?
How difficult is K2 Base Camp? The K2 base camp trek difficulty can be graded to 8 out of 10. This trek can be considered an Intermediate + to advance hike in terms of duration and elevation gain while an easy Trekking in terms of technical difficulty. There is no technical difficulty encounter during this entire trip unless you cross the very famous gandogoro la. If you plan to make a loop via crossing gandogoro la with the K2 Base Camp trek, then it will be an advanced to extreme level trekking due to the technical la pass. Hiking to the base of K2 and coming back via the same route involves no technical skills rather good fitness and strong endurance will be required.
9. K2 base Camp height, Elevation/altitude?
How high is K2 Base Camp? Well, altitude is commonly travelers' biggest challenge on this tall trek. As mentioned before, you're going to have to an elevation touch a hefty 17,00 feet (5,100m) above sea level. You'll manage 9,850 feet (3,000m) at the K2 trailhead, which is taken care of by the flight from Islamabad to Skardu and drive to Askole. The rest is up to your legs. You'll knock out about 1,400 feet (400m) by climbing to Paiju Camp. After that, days on the trail (not including acclimatization days) average around 1,00-1,300 feet (300-400m) in elevation gain, though it's on less-steep paths once you cross the beautiful camp around Rdukas. K2 Base Camp elevation is no joke and can be difficult for some.
Acute Mountain Sickness
Acute Mountain Sickness (AMS) is certainly a risk here. It can affect anyone over altitudes of 8,000 feet (2,438m), but usually has severe impacts at higher levels. Since the K2 Trek reaches altitudes of more than double the height where AMS can possibly kick in, there are usually two full acclimatization days planned – one at Paiju or Rdukas camp Peak and the other at Concordia. These days aren't for resting but instead used to climb high and then descend to sleep at lower altitudes, a common practice that's known to help the body acclimate to conditions at higher elevations.
Don't be surprised if your K2 Base Camp Trek guide constantly reminds you to drink enough water as it's another way to combat AMS. Once you hit the higher altitude parts of the path, you can typically expect your guide to be prepared with a supply of oxygen, should you need it. You might also want to consider packing an AMS medication like Diamox on your trip to Baltoro Pakistan.
Even seasoned alpinists find the trip a challenge and lots of climbers struggle with Acute Mountain Sickness. Just remember no pain, no gain on this most incredible of trails! On this trip, you'll see the sheer majesty of the Pakistani Karakorum up close and scale to viewpoints that are simply some of the best you'll ever hike to.

10. Food on the K2 Base Camp
During K2 base camp Trek, participants are served all three meals (breakfast, lunch, and dinner). The food will include a combination of Pakistani and foreign meals made of ingredients bought in Pakistan.
Breakfasts: Breakfasts will include coffee, tea, cereals, eggs, porridge/muesli, and chapatti/bread.
Lunches: During trekking, lunches will be eaten during lunch breaks with options from tinned/canned meals (fish, meat), crackers, pickles, cheese, chapatti, etc. Depending on the weather, the lunches start with or sometimes end with soup, noodles, coffee or tea, biscuits, etc. Our three-course meal (dinner) is always eaten in a mess tent which is freshly prepared by our cooks traveling with us.
Dinner: The dinner will start with soup and end with sweets. During the initial days of trekking, fresh vegetables are also cooked until they remain fresh. Vegetarians must inform our office in advance if they want their entire meals to be vegetarian.
Water: Iodine-treated drinking water will be made available in the mornings, during breaks, and while camping. Everyone will be drinking spring water when available but at other times, we do not have options other than consuming glacial melt water that might consist of silt. Our kitchen uses a large container for water supply that helps in settling down the silt at the bottom. If you do not like the odor of iodine, you might want to bring your own supply of bi-carbonate or soda. Conventional methods work well for everyone but we keep on experimenting with new methods.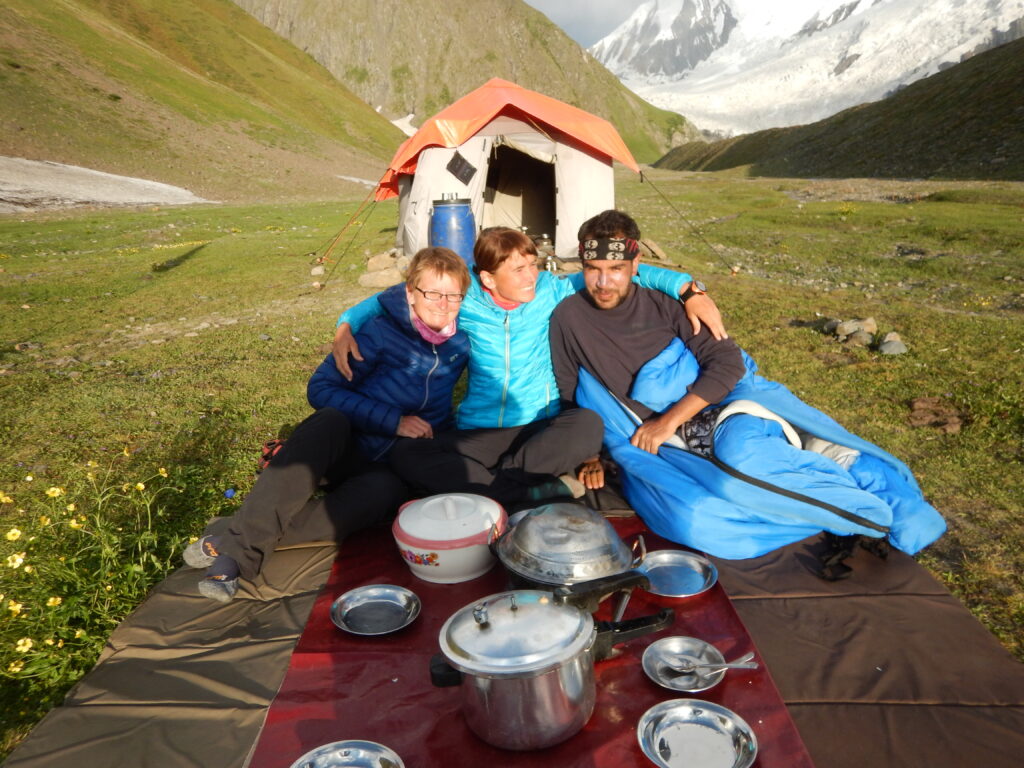 Common dishes include: Chicken curry, Daal, Vegetables, Chappati, rice, etc
11. Accommodations on K2 Base Camp
Apart from the hotels in Islamabad at the start and at the end of your quest, all of your accommodations on the K2 Base Camp Trek route are camping. Don't let the name fool you
K2 Trek Camping accommodations in Pakistan are simple. The general rule is that the quality is better towards the start of the trek, where the camping is on land and better supplied with water. Camping on glaciers will be colder and less comfortable compared to land. Initial few places offer showers with cold water but can get hot water from the kitchen if needed. Electrical charging of devices is on offer at most places, though that could come at an extra cost.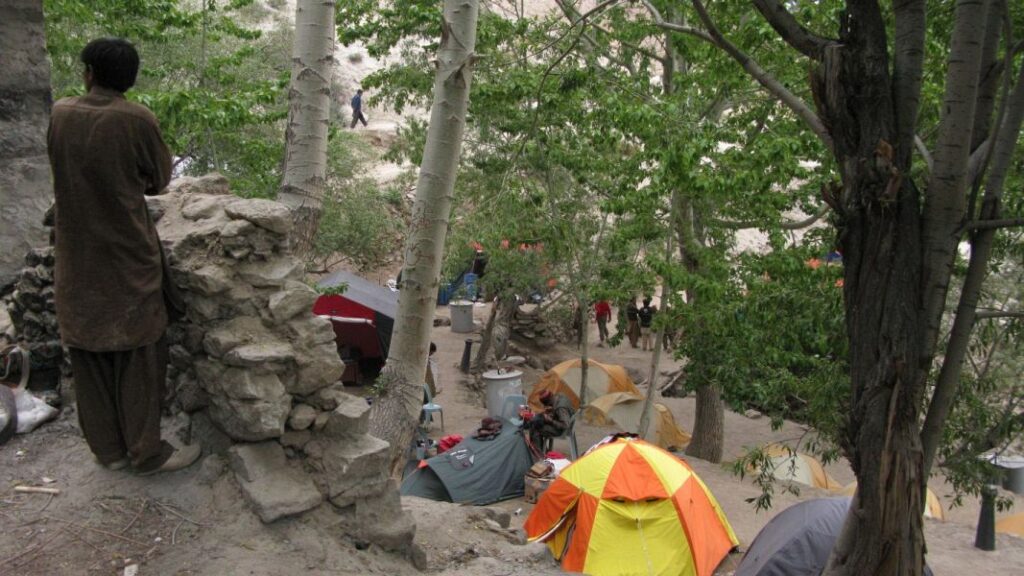 12. Best time to trek to K2 Base Camp
There is only one main season for trekking to K2 Base Camp in Pakistan. The Trekking season in Pakistan starts from June until September marking July and august as the best months of the entire period. The Karakorum weather is always unpredictable at some time, and you should be ready for it, well prepared with rain jackets and heating clothes.
Weather
During your holiday, you can experience maximum temperatures of up to 45 °C in Islamabad, 30 °C in Skardu, and 26 °C in Askole. The days will be warm (unless clouds take over) until we arrive at camp in Concordia where temperatures during the day will decrease to less than 10 °C.
you might walk on snow on Baltoro glacier's higher part in June and this snow normally melts by mid-July. In August and September, you might experience snowfall depending on how the weather turns out. Temperatures in the Karakoram Range are unpredictable. The temperature might decrease down to -10 °C during any time of all trekking periods while camping anywhere between Paiju and Concordia. In September, it can go even lower than -10 °C. Monsoon does not fully affect the Karakoram Range. However, due to past experience with unpredictable weather, we must be prepared for unfavorable weather conditions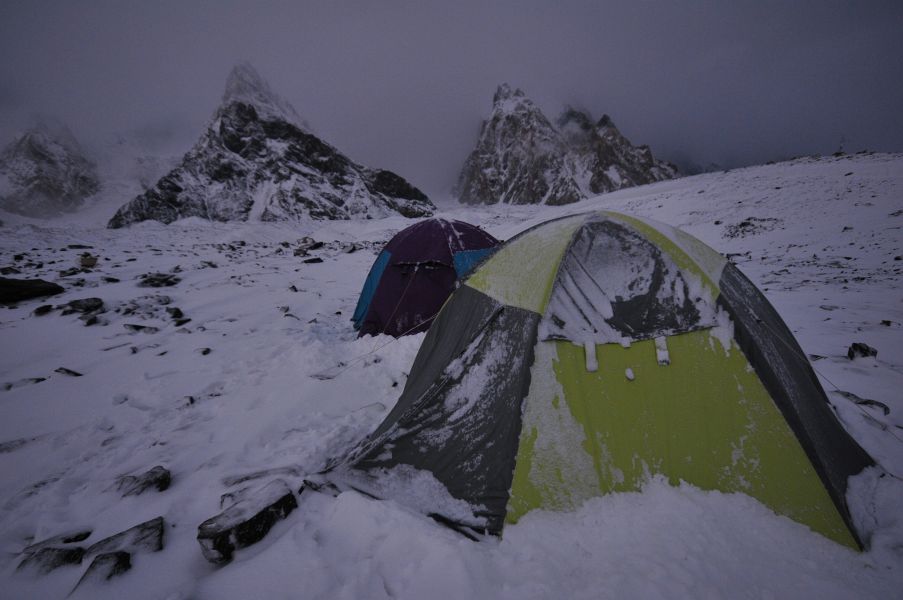 Here's a breakdown of the months to go:
June – Marks the beginning of the trekking season proper but it's not its peak. That means a good balance of smaller crowds, availability in teahouses and affordability. Most of the ground snow has melted by this point, but rising temperatures do mean there can be some heat haze to obscure the views.
July – The busiest time of all on the Mount K2 Base Camp Trek, but for good reason: Clear skies abound, the views are wonderful, and temperatures are comfortable. You can also come in July if you're keen to see the hardcore mountaineers prepping for a summit push up Mount K2 itself.
August – The month on the trail with less harsh conditions in the evening. Downsides include heat haze that can obstruct the views and the potential for some early-monsoon rains.
September – The first month after the monsoon can see some rains stick around. However, that also means the lower-altitude parts of the trek between Islamabad and Skardu are wonderfully lush with flower blooms and vivid greenery.
October to May is the low season for one main reason: Snow. Temperatures during these colder days drop to an average of 25 degrees Fahrenheit (-4℃) in the middle of the winter season, and that's in goro, one of the lowest points on the trek. It's not ideal for overnight hikes that rely on camps. That said, however, completing the K2 certainly isn't impossible at this time, it just presents unique challenges. You'll need way more thermal layering, special trekking equipment to handle the snowdrifts, and probably extra days to complete the trek. The upside is that winter days offer very clear skies and there's rarely a big crowd on the trail.
13. Managing Tips
It is common that our participants at least tip the porters for their hard work carrying participant luggage and supplies. If you feel satisfied with the services of the guide, assistant(s), and kitchen crew, you can contribute to the total tip. 95-120 Euros (or equivalent in your currency) would cover this element of the total expenses. The tour leader/guide helps all participants in deciding a tip for all crew members of the Trek. These tips are then handed over as a group in a "thank you" ceremony organized at the conclusion of the trek.
14. Baggage Allowance
Porters discussed above will be carrying your baggage/luggage apart from supplies, equipment etc. The maximum weight limit for your packed trekking bag is 12 to 15 kilograms. A load of your sleeping mattress and sleeping bag is included in the maximum limit. Please only bring the required items on the trek. It will be possible for you to leave parts of your luggage at the hotel in Skardu.
15. What gear and equipment should I pack?
There are two lists for K-2 Trek. List 1 contains items and equipment that you must bring. The 2nd list contains optional items you might need on your trekking holiday. Based on your own judgment you can select things that you might need from the 2nd list.
List 1 – Must Bring Items:
First Aid Pack (Diamox (Altitude), Dioralite (re-hydration salts), antiseptic cream, blister treatment, throat lozenges, plasters, Imodium (diarrhea treatment), painkillers)
Hiking Backpack (Day Pack) 32-42 Litres
Fleece jacket with hood or a warm jumper
Gloves (Thermal)
Headtorch with spare batteries
Hiking boots
Sleeping bag (-16°C comfort rated)
Sandals (sports) or old shoes (to cross rivers)
Sun protection cream (including total block for nose, lips, etc.)
Sunglasses and Sunhat
Thermarest or any similar mat/pad for sleeping
Warm hat and Warm jacket (down)
Water bottles 1litre (x2)
Waterproof jacket
Waterproof over-trousers
Antibacterial hand wash
Shirts/T-shirts
Small towel
Socks
Spare laces
Underwear (normal and thermal)
Trekking poles (highly recommended)
Wash-bag and toiletries
Walking socks (2/3 pairs)
Baselayer – leggings (Thermal)
Trekking Trousers
Baselayer thermal shirts (2 long sleeves, 2 short sleeves)
Harness (for Snow Lake Biafo Hispar Traverse, Gondogoro La, Trek
Helmet, ice axe, and crampons (for Gondogoro La only)
List 2 – Optional:
Buff or scarf
Small padlock (for locking your bag)
Camera
Insect repellant
Pen-knife (important: pack sharp tools in hold luggage)
Repair kit (e.g. thread, needle, duct tape)
Liner (for sleeping bag)
Travel clothes
Bottle for Pee
16. Is It Safe to travel to the K2 Base Camp Trek?
Pakistan is the country that has been on top headlines in the media many times from 2006 to 2014. Hiking to the base of K2, you have to enter Pakistan and pass many cities including the capital of Pakistan, Islamabad.
Is K2 base Camp safe? well, the K2 base camp trek with all other adventures in the Baltistan region is safe to travel. As K2 the savage mountain and other 4 above 8000M high peaks are also situated in this area. The Baltistan territory is known as the most peaceful and safe area in the country and worldwide mainly because of the Tibetan tribe living in the area. Baltistan is also known as little Tibet and the language spoken in the region is called "Balti" which is the 16th branch of the Tibetan language with Islamic and Persian influence due to the religious practice there.
17. Is it safe to travel to Pakistan?
We Interviewed many travelers about safety in Pakistan. "Whilst it has become incredibly difficult to predict where in the world is safe and where in the world is not these days, from our experience of traveling year after year in northern Pakistan, we would say that Gilgit Baltistan, and especially Baltistan regions where we embark our adventure are safe and peaceful with the simple and down to earth inhabitants very," says the adventurers.

"Back in the day, northern Pakistan was one of the most exciting adventure travel destinations in the world", "There were rafters, trekkers, paragliders, horse riders, mountain bikers, all traveling the region for its immense natural beauty and fascinating and hospitable population. The people you'll meet in Pakistan, in the true traditions of Islamic hospitality, are among the most hospitable and friendly you're ever likely to meet."
18. Getting there
In order to reach Skardu (northern areas), there are two options available.
Domestic flights
Taking a flight which is subject to the weather as the valley is surrounded by mountains and requires high visibility for any flight to operate. Due to the weather factor, no flights are guaranteed to operate. Flights to Skardu do operate often but there are always chances for cancellations and in that case, we keep road transport as backup and on standby.
We cannot take the risk of waiting for another day in Islamabad for another flight for good reasons including the complex airline booking system, tourist traffic flow on flights, etc.
Karakoram Highway (In case of Flight Cancellation)
We advise all our guests to read foreign travel advice on their respective country's foreign office websites. Travel advice from residents or home country to your destination country (Pakistan) on relevant websites or search "foreign office travel advice".
Journey on Karakoram Highway is one of the best experiences in Pakistan for any foreign or domestic tourist, providing views of the amazing natural environment and indigenous people throughout the road trip, and never has any of our guests openly regretted traveling by KKH. We strongly advise that you contact and gain more information from your travel insurance company regarding road traveling coverage. If your company does not offer full coverage for your trekking holiday, you might look for other companies.
19. Miscellaneous Expenses and Budgeting
For expenses other than your holiday cost, you can carry approximately 250 USD/EUR, 200 GBP /, 9000 Thai Baht, 1000AED (or equivalent in your own currency). This can be used for other expenses including tips for porters and supporting staff. You can purchase Pakistani Rupees (PKR) upon arrival at the airport at good rates. US Dollars, Euros, and Pound Sterling can quickly be converted into the local currency at the airport.
The porters are paid in Pakistani Rupees, not to mention everything else you may want to purchase in Pakistan. US Dollars will have the advantage of being easily exchanged in even smaller towns but we recommend one-time exchange. Credit cards can come in handy for shopping in Islamabad for souvenirs/gift items including rugs. Automated Teller Machines (ATMs) will be available in Islamabad and Skardu but using your debit/credit cards, you will only be able to withdraw Pakistani Rupees from ATMs.
20. Travel visas and permits
A trekking visa is required to come to Pakistan for trekking. People on work visas (already in Pakistan/abroad) require a No-Objection Certificate (NOC) which normally takes up to 6 weeks. To apply for a tourist visa online, you will need to go to the official visa portal at this link and apply for Mountaineering and Trekking visa (https://visa.nadra.gov.pk/
21. A typical K2 Base Camp Trek itinerary
Day 1: Arrival at Islamabad International Airport
Depending on time availability, there may be an option to do some sightseeing in Islamabad, a city purpose-built in 1961 as the new capital of Pakistan. Alternatively, we could visit the Twin City of Rawalpindi a town from the days of the British Raj. The two cities are very different in character; the older settlement is rather sprawling with enormous and complicated bazaars where you can easily get fascinatingly lost. Islamabad, by contrast, is much more open, a modern city with many parks and wide streets arranged on a grid system. There is not always the opportunity to include a sightseeing tour and, if there is, it is optional and there will be a charge payable locally.
Day 2: Early morning travel to Skardu town (2,200 m)
Given good weather, we will fly to Skardu (perhaps the most spectacular commercial flight in the world, with magnificent views of Nanga Parbat the 9th highest mountain in the world. If the weather doesn't allow the flight we take the Karakorum Highway on the old silk route. This is just spectacular. It's a long drive but one of the great journeys of the world between the deep gorges of the mighty Indus. Driving over Babsur Pass will minimize the distance and the night stay will be in Chilas. (10-12 hour drive). Upon arrival at Skardu hotel, we shall have a gear check-up session after some rest and the evening can be spent visiting Bazars, historical forts, scenic lakes, or visiting ancient rock inscriptions, one of which is of 8th-century Manthal Buddha Rock that shows traces of Buddhist monks and pilgrims who had influence in the area before Islam.
Day 3: Jeep Safari to Askole (3,000 m) via Shigar Valley
We leave Skardu by jeep for Askole, passing through the fertile Shigar Valley. The last 2 hours of the drive cover the ground which used to make up the first 2 days' walk of the trek and includes the passage of the infamous Braldu Gorge section. This high and steep-sided valley is prone to landslides and we may have to walk short sections of the road where it has been made unstable by rock-fall. Given reasonable road conditions, we will spend our first night under canvas in this famous Balti village high above the thundering Braldu River. Askole is a single street of wooden houses, backed by irrigated fields of corn and potatoes and groves of apricot trees.
Day 4: First day of walk towards Jhola Campsite (3,100 m) via Biafo Glacier
We set off early to avoid the heat of the day. The route is gentle and enjoyable. We cross the Biafo Glacier on the way and get our first sight of the Paiyu pinnacles. We will be trekking for around 5 hours to the Jula camp today. Our lunch point Korofong (3,075 m) lays across the glacier's other foot. The trees here are habitats for a variety of beautiful birds. From Korofong we gain altitude and follow the Braldu course till we reach Panma River which is crossed by taking a detour through a trail built on the face of the cliff. These pulley bridges known as Jhola were common in the Karakorum Mountains. Beyond this bridge is our campsite called Jhola.
Day 5: Trek to Paiju (3,380 m) through Braldu Valley
Trek to Paiju (3,380m) 4 to 5 hours walking. The path is quite loose in places and again it is likely we will have to take boots off where the river has flooded the path in a few places. Paiju is a green oasis under the shadows of Paiju Peak (6,611m). From this camp, we have the first views of the immense Baltoro Glacier.
Day 6: Acclimatization and rest at Camp Paiju (3,420 m)
Today is a rest day at paiju to aid acclimatization and an important resting point for porters, they prepare food for the trek ahead. Normally there is much singing, drumming (or barrel bashing), and dancing amongst the porters with a real feel-good atmosphere.
Day 7: Start of Baltoro Glacier Trek. Walk to Camp Khoburtse (3,795 m)
Another early walk of approximately one hour brings us to the snout of the Baltoro. After viewing the outpouring of meltwater from the ice we climb up onto the back of this great beast. The ice of the glacier is completely covering by rubble and rocks, and going here can be quite tough at this point. Finally reaching Khoborsay camping place (3800m). we would be able to see the cathedral Towers, the Trango, and the striking rock tower of Uli Biafo.A great day of trekking over difficult and mixed terrain.
Day 8: Baltoro Glacier Trek. Views of Trango Towers. Camp at Urdukas (3,900 m)
Today is a short day. we continue Baltoro glacier on the lateral moraines or sometimes the glacier itself, passing great Trango and the isolated pillar of the Nameless Tower to our next camp Rdukas (3900m). This is a truly awesome place a hundred meters above the glacier we should reach here in time for a late lunch and the rest of the afternoon is free to tend to camp chores or just to soak up our fabulous situation.
Day 9: Baltoro Glacier Trek. Trek to Goro Camp (4,295 m). Sights of Masherbrum Peak
On this day we follow the moraine edge and climb up onto the glacier. Soon we come to have the enchanting view of Mashabrum (7821m) on our right side. Ascending and descending on the mountains of rubbles over the ice we have a glimpse ahead to the peaks which surround Concordia. Goro is the camp name (4290m) and camping one of the largest glaciers outside the polar region with an attractive view of Gasherbrum IV (7925m). Accommodation: Camping Meals: Breakfast, lunch & Dinner Ascent: 330 Descent: 90 Distance: 12KM Time: 6-7 hours trekking
Day 10: Baltoro Glacier Trek. Walk to Concordia (4,500 m)
Today, we move up to Concordia passing on Baltoro, views of Broad Peak (8051 m) appear while Marble and Crystal Peaks appear on the left. K2 remains concealed till the minute we reach Concordia; a breathtaking sight that becomes a beautiful memory forever. Concordia is a wide area of glaciers which is one of the greatest places on earth. We will be surrounded by 4 eight-thousanders, 10 out of 30 highest peaks in the world. The camp will be set at 4,500 m in Concordia on the moraine.
Day 11: K2 Base Camp (5,100 m) & Broad Peak B Camp (4,800 m) OR Optional Day
Go to broad peak base camp (4800m), K-2 base camp (5100m) 0r Rest at Concordia. If you chose to go, start early in the morning you can return to Concordia in the evening. On this day, we can start early through crevasses and small rivers created by melting ice.
Broad Peak Base Camp(4,800 m)
We follow on to the glacier that is named after Godwin Austin who first declared K2's height. After three hours we will be at Broad Peak base camp where we will have a great sight of the astonishing Karakoram 2nd (K2), Mitre Peak behind us, and Bride Peak. We walk on the moraine which is mostly boulders. However, we do walk on ice occasionally.
K2 Base Camp (5,100 m)
After another 3 hours trek, we shall complete a one-way journey of the K2 Base Camp reaching a moraine safe zone, a traditional base camp area for K2 climbers. One can also visit Gilkey Memorial if time allows. The memorial has names of brave souls inscribed on plates and plagues. These tough ones died attempting K2.
Optional Day
The decisions about trekking to K2 Base Camp, Broad Peak BC, Gilkey Memorial, choosing one or another or all options, or choosing to rest at Concordia on this day depends on the participants. Return to Concordia on this day is compulsory.
Day 12: Trek down on Baltoro
Today, we shall trek back to Goro I also known as Biango paro. This will be a beautiful place where we will have a lunch break on the way up to Goro I.
Day 13: Trek to Khoburtse
Today after breakfast, we hike back to Khoburtse via the Rdukas Campsite.
Day 14: Trek to Paiju
Today, we hike back to Paiju where we had our acclimatization and rest day on the way up to K2 base camp Trek. Descent: 610 Ascent: 220 Distance: 13KM Time: 6-7 hours trekking
Day 15: Trek to Paiju
Trek to Jhola and drive to Skardu
Today, We shall hike towards Jhola and drive to Skardu on the same day.
Day 16: Contingency day for possible trek delays
Today is a reserve day for any trekking delays due to bad weather, road blockage, or any unexpected situation.
Day 17: Fly to Islamabad and Sightseeing during the afternoon
The drive from the hotel to the airport is 40 minutes and it's a metal road. We board the plane for a thrilling flight towards Islamabad. We once again fly by the Nanga Parbat. Reaching Islamabad airport after a great adventure is a very different experience and takes getting used to. Our vehicle will be at Islamabad airport to take us straight to the hotel. We will settle in and have lunch if there isn't any unusual delay. After a good meal participants can take the day for rest or sightseeing around the city or shopping for popular options like artifacts or rugs. In the evening we will be together to enjoy a special meal at a local restaurant or at our hotel and share experiences of k2 base camp Trek.
Day 18: Contingency day for possible flight delays
Skardu is a 'weather dependent' airport which means the planes will only fly here if the visibility allows line of sight to the runway by the pilot on the approach. Fortunately, the weather is mostly clear in the Karakorum but local weather conditions can bring clouds and rain from time to time. If we cannot fly we will travel down to Islamabad by road along the spectacular Karakorum Highway. If we flew up to Islamabad this will be an added bonus as it is a fantastic travel experience in its own right. The drive down the Indus River to Islamabad takes two days so this is an important contingency day to allow for this. If we have flown to Islamabad this will be a further day for sightseeing in the capital and your leader will advise the group on the options available for today.
Day 19: Departure from Islamabad. Airport transfer from the hotel
Our land package for K-2 Trek ends only with breakfast and transfer to the airport.
Other Variations of the K2 Trek
Five 8000m Base Camp Trek
Fast K2 Base camp Trek
Solo K2 Base Camp Trek
22. K2 Base Camp Trek vs Everest Base Camp Trek
K2 base camp trek is more challenging than the Everest base camp trek in many ways. The terrain for the trek to K2 is rougher, strenuous, rugged, and wild as compared to the green hilly areas with a lot of facilities available and well-marked trails hike in Nepal. In Pakistan, for the K2 trek, we walk and stay on glaciers in tents for a minimum of 4 to 6 days depending on your holiday itinerary. There are Tea houses available at each camp with facilities of hot showers and on the EBC trek in Nepal until Gorakshep. We pass by many beautiful villages on Everest trekking while in Pakistan, the towering mountains and the beauty of nature amaze us every day until we reach the campsite.
Both Treks are amazing with stunning views of mountains but Concordia, the junction to all Karakoram giants offers the best view in the world showing the 4 world's highest peaks from one place.
23. How to Prepare for the K2 base camp trek?
The fitter you are the more you will enjoy your holiday and you are more likely to summit if you are not totally exhausted at the end of each day. Training should not be a chore, use your k2 trip as an excuse to get out in the evenings after work or a walking weekend in the hills.
We shall recommend to wear and test out the equipment and clothing that you will be taking with you before you go. You can do something about it before the trip at least.
We would suggest that you adopt a weekly and daily exercise regime leading up to your trip. Regular hiking in the mountains of your area is the best training on weekly basis but running, tennis, and swimming are also good for developing cardiovascular fitness and stamina.
24. K2 Base Camp Trek Map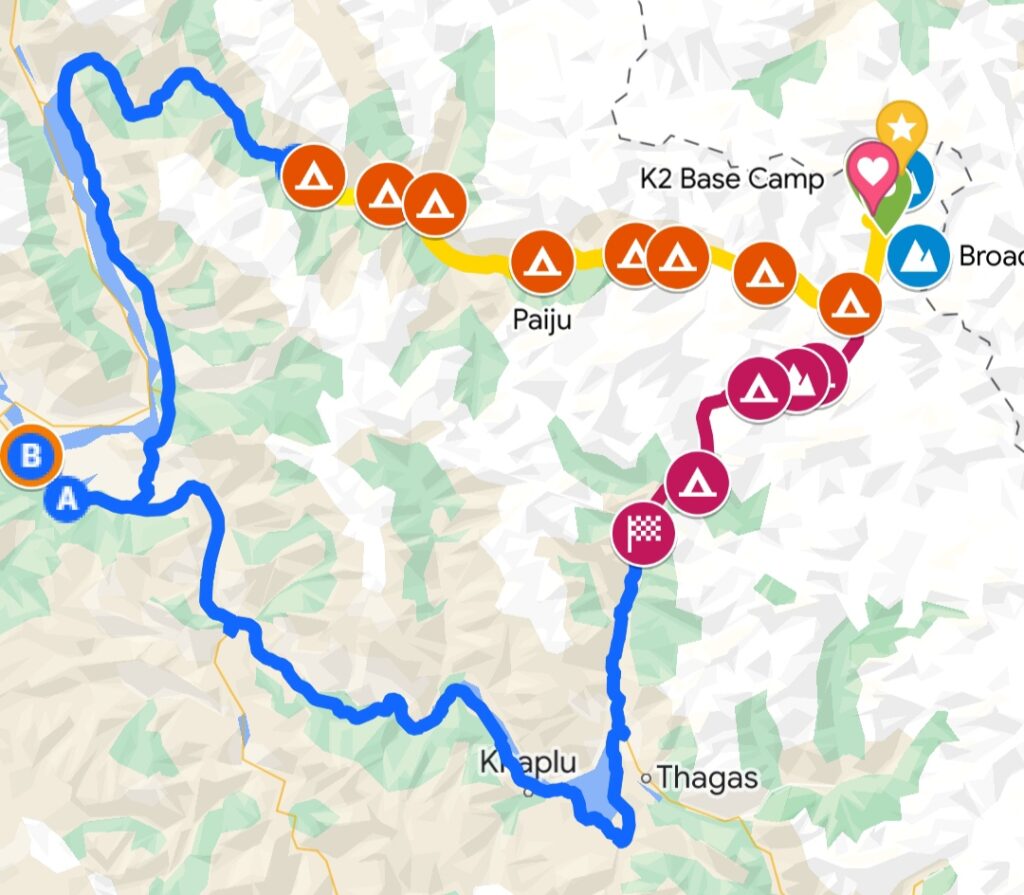 Why travel with World Adventure Tours?
Experience the K2 Base Camp Trek with the best porters Team Tour operator in Pakistan. We have the most experienced guides and porters from the locality who started careers with us in 2006. They are also native to the Baltistan region of Pakistan, the home of the Kurpa (porter) community, so you know you'll enjoy an authentic experience.
We pride ourselves on delivering extraordinary tours based on travelers' needs and are humbled by our guests' testimonials. In fact, our dedication has earned us a 5-star rating on Tripadvisor, and awards by Travel+Leisure Magazine and Newsweek. Check us out and discover why so many travelers worldwide choose us. My team and I would love for you to join us on the trek to Everest Base Camp or any of our many other adventure trips!
I hope to go exploring with you soon!
Cheers,
MS Khaplui,
Founder & CEO
World Adventure Tours
About MS Khaplui
MS Khaplui (Muhammad Siddiq) is the Founder and CEO of The World Adventure Tours, an adventure travel company. He started his career as a porter for K2 and Karakorum mountains and his mission is to provide travelers with the opportunity to transform their lives and the planet through the power of adventure.
For the latest, follow Jeff on Instagram and learn more about him HERE.