K2 Base Camp – 21 Things to Know for Your Trip in 2024
The K2 Base Camp Trek stands as an iconic, breathtaking, and challenging adventure that captivates hikers worldwide. This route through the Karakoram Range offers unrivaled natural beauty and a soul-stirring experience. Many consider it a rite of passage for dedicated trekkers, while others embark on it to witness the world's four 8000m giants of the Karakoram.
1. Where is K2 Mountain? K2 is located in the Karakoram Range of Gilgit-Baltistan, Pakistan, and the Tajik Autonomous County of Xinjiang, China. It's the second-largest mountain in the world, standing at 8,611 meters (28,251 feet) above sea level.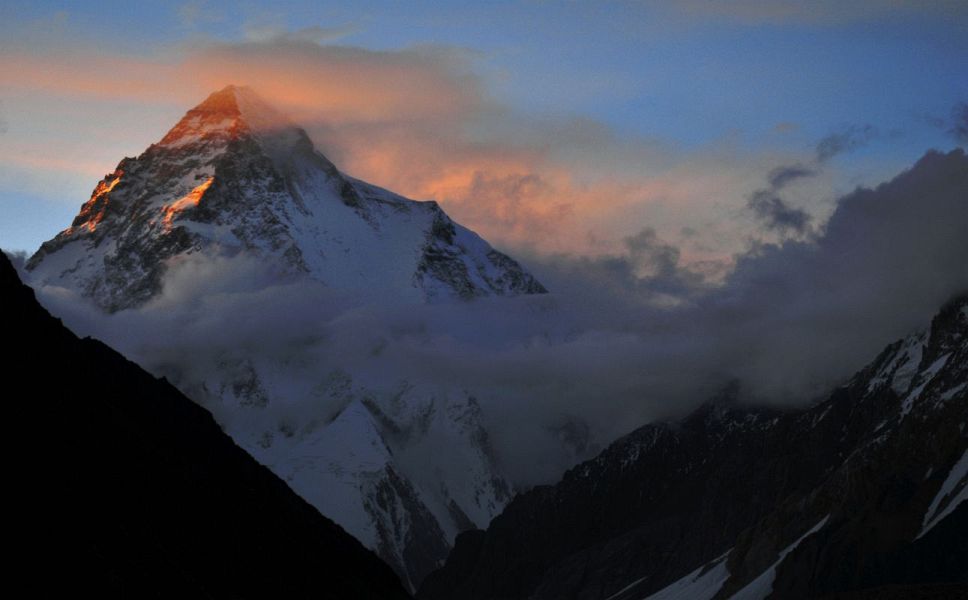 2. What and where is the K2 base camp? There are two base camps for K2 trekking: the South Base Camp in Pakistan and the North Base Camp in Xinjiang, China. The Pakistani base camp, located in the Skardu Baltistan region, is the more commonly known one and serves as the endpoint of the trek.
3. History of K2 Base Camp Trek The history of K2's discovery dates back to the 13th century when Marco Polo passed near the Karakoram. The peak was officially named in 1856 by Colonel TG, and it has since become a renowned mountaineering destination.
4. How long is the trek to K2 Base Camp? This Trek is a challenging high-altitude journey that typically takes 12-14 days to complete, covering a distance of approximately 111 miles (180 km) roundtrip. Each day's trekking section ranges from 10-12 miles (18-20 km).
5. Is it worth it? K2 Base Camp trip highlights
The trek offers stunning highlights, including Paiju Camp, Trango Tower, Goro Camp with Mashebrum Peak, and Concordia, which offers breathtaking views of K2 and other towering peaks.
6. What is the cost of K2 Base Camp Trek? The cost of the K2 Base Camp Trek varies depending on the tour operator and group size. It can range from $1,690 to $6,000 per person. Local tour operators may offer lower prices, but it's essential to clarify all details before confirming the trip.
7. How hard is the Trek/What is the Trek Difficulty? The trek is considered advanced level due to its duration and high altitude. No technical mountaineering skills are required, but good physical fitness is essential.
8. How is the K2 Base Camp Terrain? The terrain varies from intermediate to advanced, with some technical difficulty if crossing the Gandogoro La pass. Hiking to the base of K2 and returning via the same route involves no technical skills.
9. K2 Base Camp height, Elevation/altitude? K2 Base Camp is situated at an elevation of 5,100 meters (17,000 feet) above sea level. Acute Mountain Sickness (AMS) is a risk, and acclimatization days are included in the itinerary to help adjust to higher altitudes.
10. Food on the K2 Base Camp During the trek, participants are provided with three meals a day, including a combination of Pakistani and foreign dishes. Special dietary requirements can be accommodated with prior notice.
11. Accommodations on K2 Base Camp Accommodations during the trek consist of camping, with varying levels of comfort. Showers and charging facilities are available at some locations.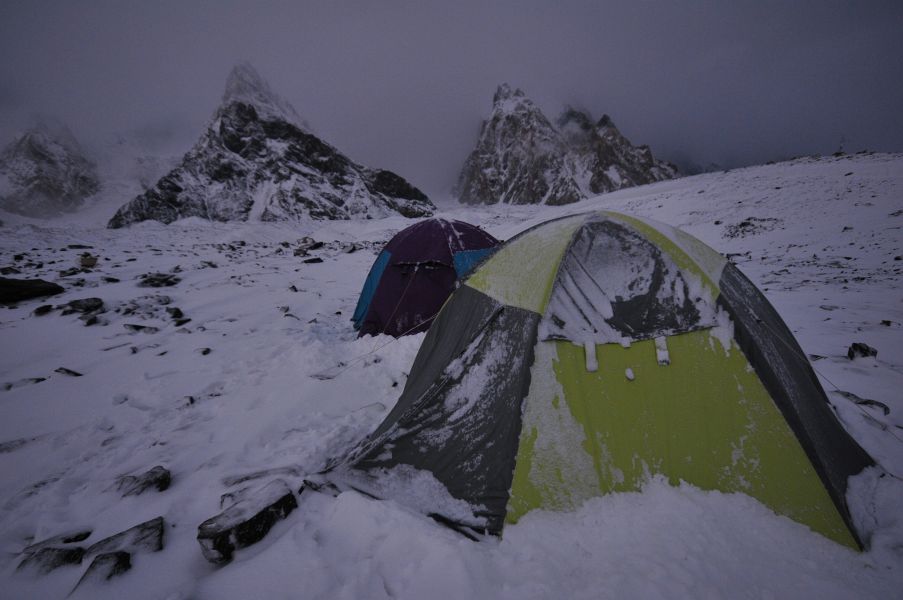 12. Best time to trek to K2 Base Camp The best time for the K2 Base Camp Trek is from June to September, with July and August being the peak months. Weather conditions are variable, and participants should be prepared for changing conditions.
13. Managing Tips Tipping is customary for porters and staff, and the recommended tip amount is approximately 95-120 Euros per person.
14. Baggage Allowance Porters will carry participants' baggage, with a maximum weight limit of 12 to 15 kilograms.
15. What gear and equipment should I pack? A list of essential items, including clothing, footwear, and equipment, is provided. Additional optional items can be considered based on personal preferences.
16. Is It Safe to travel to the K2 Base Camp Trek? The K2 Base Camp Trek and the Baltistan region are considered safe and peaceful. The local population is known for its hospitality.
17. Is it safe to travel to Pakistan? Gilgit-Baltistan, especially the Baltistan region, is safe for travel. Travelers should refer to their country's foreign travel advice for the latest information.
18. Getting there Travel to Skardu, the starting point of the trek, can be by domestic flight or by road via the Karakoram Highway in case of flight cancellations.
19. Miscellaneous Expenses and Budgeting Budgeting for miscellaneous expenses, including tips and personal spending, is essential. US Dollars, Euros, and Pound Sterling are easily exchangeable in Pakistan.
20. Travel visas and permits A trekking visa is required for Pakistan. Tourists should apply for a Mountaineering and Trekking visa through the official visa portal.
K2 Base Camp Trek Map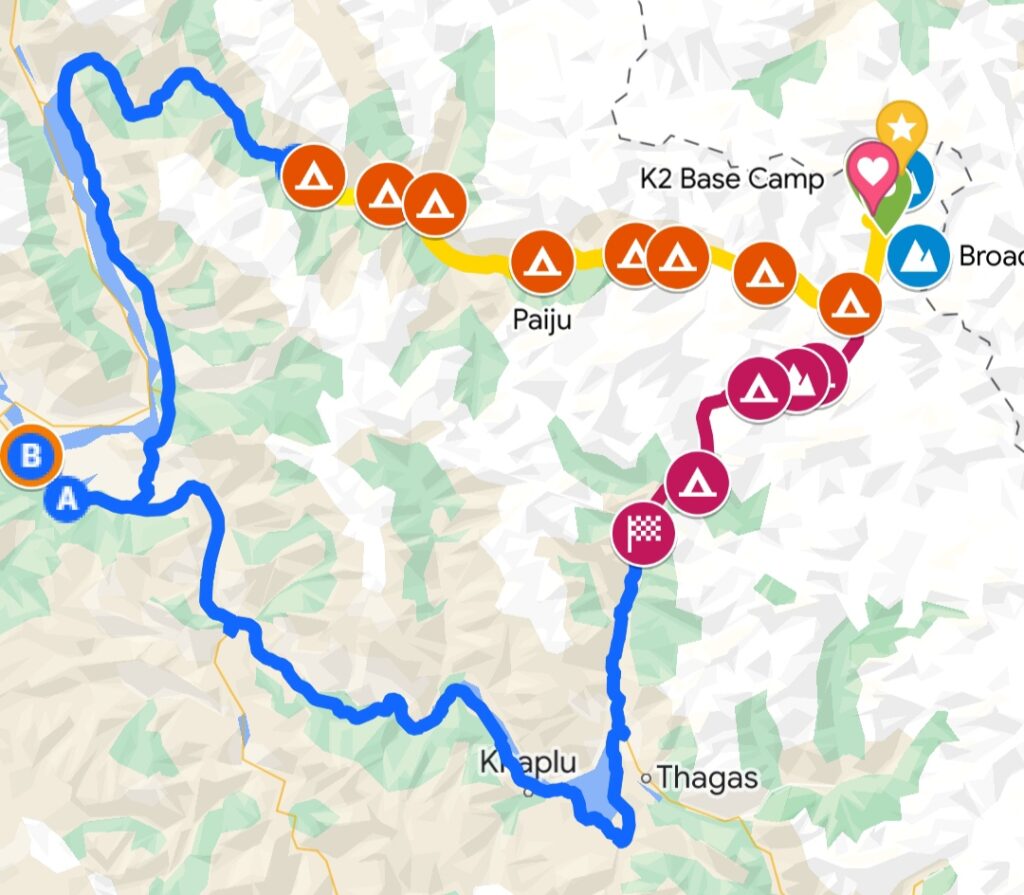 Why choose World Adventure Tours for your K2 Base Camp Trek? Let me paint a picture of what makes us your ultimate adventure companion.
Experience Beyond Compare: Travel with the best porters and tour operators in Pakistan. Our team boasts unparalleled experience, with guides and porters who have been with us since 2006. They are not just experts; they are natives of Baltistan, the heart of the Kurpa (porter) community. Prepare for an authentic adventure like no other.
Embrace the call to adventure: You're invited to join us on our journey, whether it's the thrilling trek to K2 Base Camp or any of our other exciting expeditions. MS Khaplui, our dedicated Founder and CEO, began his own adventure as a porter in the K2 and Karakoram mountains. His mission is to provide travelers not only with the opportunity to transform their own lives but also to make a positive impact on our planet through the magic of adventure.
So, why hesitate? Embrace the extraordinary, step into the wilderness, and explore alongside us. Together, let's craft indelible memories.
Best regards, MS Khaplui, Founder & CEO World Adventure Tours
Keep in the loop with Siddiq on Instagram. Discover more about him on Facebook.